Do you have a rustic home decor theme or style – or are you looking to make your home more rustic?
If either of these apply to you, check out our new weekly, and sometimes daily, deals dedicated to rustic home decor accent pieces, lighting and furniture.
White Vintage Aged Paint Finish Metal Bench
Your Price: $249.99
This white metal bench will be a new favorite in your home! We know it will be the seat of choice!! We can picture it styled in your dining area or breakfast nook on one side of the table! Add some throw pillows to it to make it even cozier!
Place this white metal bench in your entryway for a nice seat to take off or put on your shoes! Place some colorful or wicker baskets below it for some extra storage! We can picture this in any empty space decorated with throw pillows and a blanket or two for some extra seating! The possibilities are ENDLESS!
Beautifully crafted of metal with a distressed finish and a polyester fabric cushion
Cushion cover is removable and washable
600 lb weight capacity
Dimensions: 45″ L x 17″ D x 36″ H
Buy this vintage-look bench here!
---
Sponsored Ad
---
Vintage Look Tall French Door Mirror
Your Price: $99.99
This French door mirror has to be one of my favorite finds of these rustic home decor pieces. It may just be the detailed metal hardware – meant to mimic a real French door – which made me swoon the first time I saw it.
The rustic details on this beauty add a ton of sophistication and charm that is hard to find in most decor pieces – a work of art on its own.
Add a rustic feature to your dining room by hanging a couple of these door panels behind your dining room table or hang a pair above your side tables or bedroom nightstands! It would look stunning hung in your foyer or even your kitchen!! These would even be great laying up against any wall space! The mirror detail will make any space seem larger! We can imagine them resting against the wall in your living room, next to your fireplace or even in your bedroom or master bath in the corner as a stunning accent piece. The possibilities with this are endless!
The rustic details on this beauty add a ton of sophistication and charm that is hard to find in most decor pieces! The piece itself is a work of art!! Ever since this beauty started showing up on some very popular home network channels we just HAD to bring it to you! We just LOVE it and we KNOW you will too!
Beautifully crafted from wood, metal and mirror panels
Door features a white frame and metal hardware that can be attached to either side
Comes ready to hang from two triangle hooks
Dimensions: 16″ W x 2.5″ D x 59″ H
Buy this French Door Mirror here!
---
Sponsored Ad
---
Whitewashed Distressed Fireplace Mantel
Your Price: $249.99
Extreme Distressing on this Whitewashed Mantel make it the perfect decorative addition to just about any room in your rustic farmhouse styled home. It is not only deliciously gorgeous, it is practical, functional, and adds tons of instant charm!
This wooden mantel would look amazing lined with photos, old books, flowers, potted plants, a clock, or a mirror rested against it.
Try mounting this mantel in your office space, living room, or even bedroom to create more room and use it as stylish storage. The classic look and distressed finish of this piece will blend perfectly with any farmhouse or French country decor.
Beautifully crafted from distressed, whitewashed wood
Mantel is able to stand freely but has hangers on backside to safely secure to wall
Dimensions: 45.5″ W x 8″ D x 40″ H
Opening measures 31.3″ W x 28.9″ H
Buy this Fireplace Mantel NOW!
---
Sponsored Ad
---
French Country 2 Toned Tall Dresser

Your Price: $364.99
This steal is SO versatile and will bring in romantic, rustic and even French style to your home. Not only is this piece versatile its also SUPER functional!
This five-drawer chest is BEAUTIFUL with its classic and traditional design and yet contemporary and sleek with its hues! This piece will complete your master bedroom or guest bedroom as the PERFECT place to hold your clothes!
We can see this beauty styled in your living room holding your books, movies, and magazines. Top with your favorite potted plants and picture frames in your dining room or breakfast nook area. This piece will compliment an empty hallway filled with blankets or your home necessities. Add it to any space that needs extra storage and style.
Beautifully crafted from wood with a black and oak brown two-tone finish
Dimensions:
Overall: 35.12" W x 20.79" D x 51.18" H
Drawers: 29.21" W x 15.75" D x 6.3" H
Buy this Dresser NOW!
---
Sponsored Ad
---
Lark Manor Sadie Rustic Console Table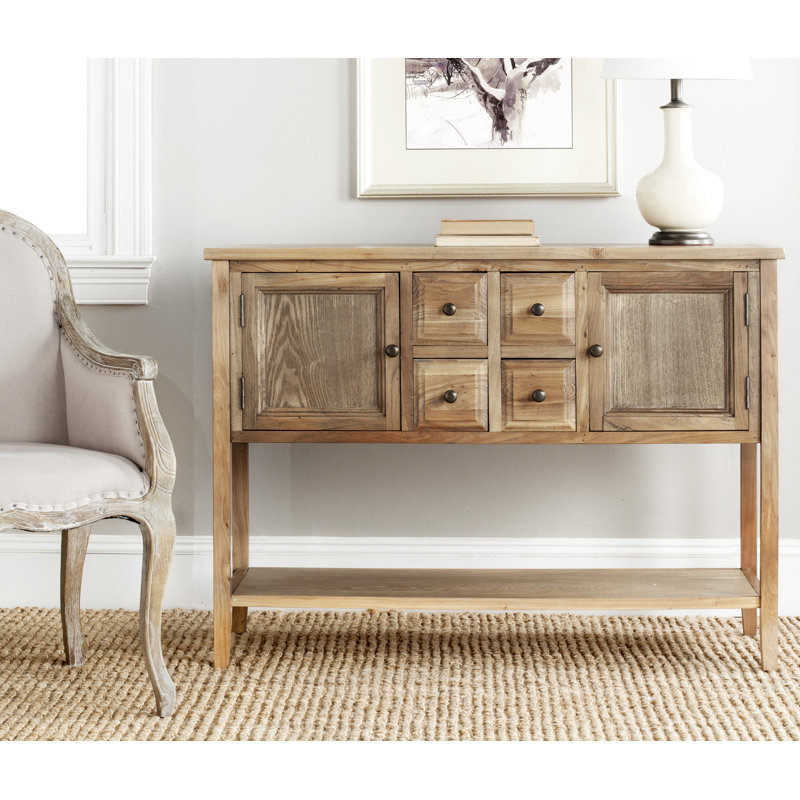 Your Price: $329.99
Keep the entryway tidy while crafting a welcoming display with the help of a Sadie 45.7″ Solid Wood Console Table!
This design exudes modern farmhouse appeal with its light distressing and classic details. Crafted from solid wood, it sports a solid finish that contrasts with a wood grain hue up top for an eye-catching look. Four apothecary-inspired drawers and two cabinet doors conceal plenty of space for you to tuck away must-have items and keep your ensemble de-cluttered.
Dimensions: 34" H x 45.7" W x 15" D
Take this console table from a French Country home decor theme to a more casual feminine farmhouse country – simply by changing the furniture and decor around it.
Either way, the Sadie console table makes for a lovely piece to add rustic charm and functionality to your home.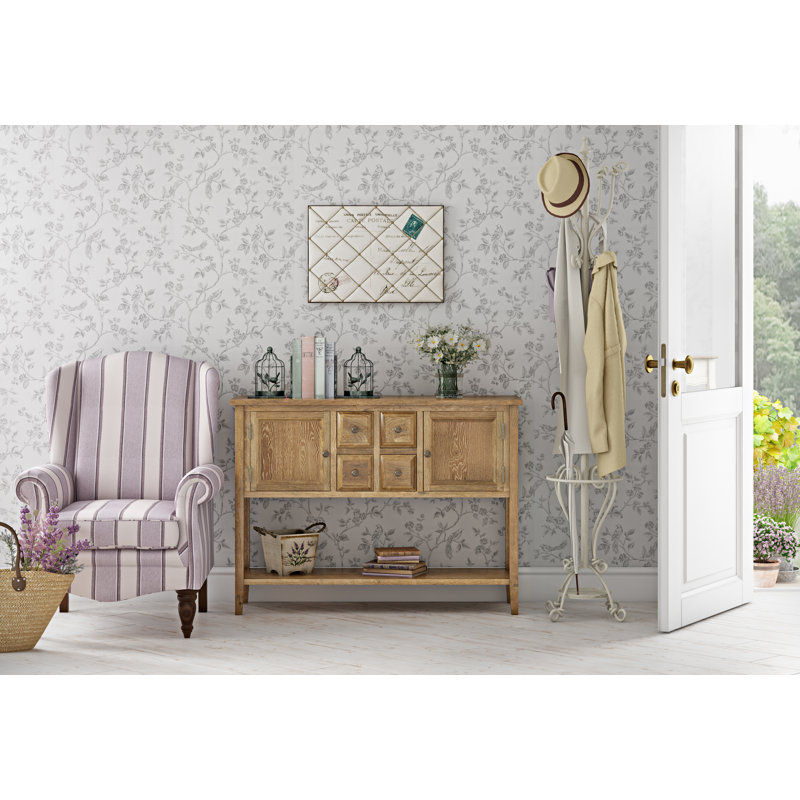 Buy this Console Table NOW!
---
Sponsored Ad
---
Vintage Look Wooden Barrel Wagon Planter or Decorative Storage
Your Price: $74.99
What better way to welcome your family and friends into your home than with this GORGEOUS barrel wagon out on your front porch or entryway! Today's steal is sure to add so much rustic charm to your space!
Add this to your entryway to collect your coats or shoes! We can see this styled out on your front or back porch with your favorite potted plants. Add this beauty to your living room to hold your cozy blankets. We can see this in your bedroom holding your extra throw pillows! This piece will WOW everyone styled in your dining room or kitchen even. Add this piece to your bathroom to store your extra toiletries and necessities!!
Beautifully crafted from distressed wood and iron
Wheels move!
Dimensions: 26″ L x 15″ W x 17″ H
Buy this barrel wagon NOW!
---
Sponsored Ad
---
Cage Look Metal Side Tables with Storage
Your Price: $134.99
It was rustic love at first sight with these BEAUTIFUL barrel tables! We just adore these Galvanized Metal Caged Side Tables, SET OF TWO! They are PERFECT for ANY space!
Place these barrel storage tables in your living room and simply take the tops off to store all your cozy blankets and pillows! Pile your favorite books and magazines in them or family photo albums! Put these in your kids' bedroom or playroom to store their stuffed animals and toys. Use these in your bathroom for extra towel and toiletry storage! The possibilities are truly ENDLESS! We just LOVE how versatile these beauties are! While these are PERFECT for extra storage, you will love all that you can display on these too! Place your picture frames on top, candles, or a bouquet of flowers! These barrel tables will add so much farmhouse charm to your home.
Beautifully crafted from wood and galvanized metal
Lids are removable!
Dimensions:
Medium: 11" Diameter x 15.5" H
Large: 13.5" D x 20.25" H
Buy these storage side tables NOW!
---
Sponsored Ad
---
Black Rustic Rounded Rectangle Vanity Pivot Mirror
Your Price: $124.99
Our Rectangle Pivot Mirror will create such an ahhhmazing industrial charm in your home because it TRULY looks like an authentic pharmacy mirror that could be found in hospitals throughout the United States during the mid to late 1800's. We love pieces that have history built into them, don't you? There is nothing more unique in a home than a piece of decor that has a beautiful story behind it!
Hang this rectangle pivot mirror above your master bathroom vanity, in your foyer, above your bed, OR above your dresser. Its beautiful finish will add dimension to any space while the mirror will kindle a reflective light and make any space feel bigger!
Beautifully crafted from sturdy metal with a black finish
Mirror tilts up and down!
Dimensions: 28″ W x 3.5″ D x 32.5″ H
Only $124.99 – at that price, you can easily afford more than one!
Buy this Mirror NOW!
Shop more mirrors here!
---
Sponsored Ad
---
Vintage Candelabra Round Chandelier
Vintage Candelabra Round Chandelier
Your Price: $224.99
Overflowing with unique style and sophistication, our Vintage Candelabra Round Chandelier consists of a large iron ring adorned with twelve candle-style lights in a beautiful black metal finish. The simple yet dramatic look of this substantial chandelier will enhance the look in any rustic, industrial or farmhouse style home.
This gorgeous round light fixture will create the perfect ambiance in your living room, den or dining room. The style and grace used to create this ring chandelier will truly make a difference in your home's decor and bring your space to a whole new level.
Beautifully crafted from iron with a black metal finish
UL listed Hardwire – we recommend this be done by a licensed electrician
Ceiling plate included
Takes twelve bulbs – 60 watt max, not included
Requires E12 with a small base bulb
Dimensions: 30" H x 36" Diameter
Chain length: 70.75"
Buy this Chandelier NOW!
Shop more chandeliers here!
---
Sponsored Ad
---
Rustic Wooden Folding Table or Desk
Deal Price: Sorry, sold out.
This deal is BIG!!! (literally!) Not only is this piece LARGE, but it's a FOUND deal you won't want to miss out on! If you love classic, vintage farmhouse pieces as much as we do, then our FOUND Wood Folding Table is for you!
Not only does this wood folding table piece exude charm, personality and LOADS of character… but it's also SUPER functional! This FOUND wood folding table piece is large enough to use as a small dining table or as a work desk in your home office! WOW! And did you see how BEAUTIFUL the wood is?! That is our favorite part!
FOUND Brand name ITEM!
Beautifully crafted from distressed wood
Dimensions: 60" W x 20" D x 30" H
---
Sponsored Ad
---
Shop more Rustic and Medieval Decor here!
Shop some Shabby Chic Rustic Decor here!